by Kevin "Coach" Collins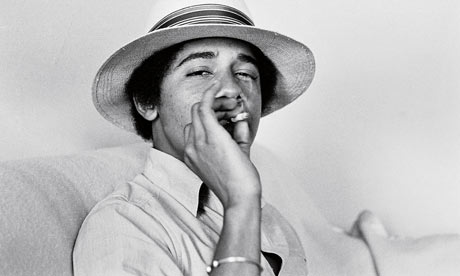 For discerning Roman Catholics, watching their fellow Catholic voters support Barack Obama by a 54 -45 margin in 2008 inspired them to wait for the opportunity to utter an inevitable "I told you so" — but there no joy in being right.
While we knew very very little about who Obama was at that time, since his election what has become known about him can best be elicited by bringing to mind the picture of a young, dope smoking Barack Obama wearing a straw and a Cheshire Cat grin. The picture of the 22-year-old Obama told us, "I'm gonna stick it to you, America" — an attitude we now live with everyday. That picture should be entitled, "The Fraud in the Straw Hat."
Advertisement - story continues below
Now the Fraud in the Straw Hat is sticking it to us, and it's the Catholics' turn. Because people like Cardinal George of Chicago who, as both the Bishop of Chicago (where Obama is reportedly from) and as head of the U.S. Conference of Catholic Bishops (USCCB) did essentially nothing to warn Catholics about the Fraud in the Straw Hat, Obama was elected our president.
Because of another collaborator with Obama and his evil, Fr. John Jenkins, the president of Notre Dame helped him gain respectably, Obama was able to force us into ObamaCare. When Jenkins invited Obama to be his commencement speaker in 2009, he gave him cover against the valid charge that Obama hates the Catholic Church. To be more precise, Obama hates the Church when Her clergy act like Catholic priests, but loves the Church when priests like Father Jenkins roll over and imitate liberal mainline Protestant ministers.
TRENDING: LiAngelo Ball Tells Truth About The Day He Said 'Thank You' To President
Now under new leadership, the USCCB is warning Obama that his steady destruction of marriage will "precipitate a national conflict between church and state of enormous proportions"
Father Jenkins has joined with the heads of other Catholic institutions to protest the sections of ObamaCare that will force them to provide abortions, either directly in the case of hospitals or indirectly in the healthcare packages they offer to their employees.
Advertisement - story continues below
Where were these Catholic churchmen when it counted?
Sadly, the damage done by foolish Catholic voters and complacent Church leaders has been done.  We can't change the past. We can only hope that some intervening events stop ObamaCare and save marriage from his evil intentions. We can only pray that next year Catholics don't get fooled by the dope smoking Fraud in the Straw Hat again. Willful ignorance has done enough damage.
To contact your Congressional representative, use this link:
https://writerep.house.gov/writerep/welcome.shtml
To read more about this story, use these links:
Advertisement - story continues below
http://en.wikipedia.org/wiki/Catholic_Church_and_politics_in_the_United_States
http://www.wnd.com/?pageId=92639
http://www.cnsnews.com/news/article/archbishop-warns-obama-you-ll-cause-conflict-between-church-and-state-enormous
http://www.catholicnewsagency.com/news/notre-dame-joins-outcry-against-hhs-contraception-mandate/
Advertisement - story continues below
This article originally appeared on CoachIsRight.com and is reprinted with permission.