The State Department hosted a group of Muslim Brotherhood-aligned leaders this week, discussing department attempts to oppose the current Egyptian government.
The current Egyptian government is headed by President Abdel Fattah al-Sisi of Egypt, who made a courageous speech earlier this year calling for dramatic religious reformation. He spoke at one of Islam's leading seminaries.
Here's a quote from the speech:
That thinking—I am not saying "religion" but "thinking"—that corpus of texts and ideas that we have sacralized over the years, to the point that departing from them has become almost impossible, is antagonizing the entire world.  It's antagonizing the entire world!

Is it possible that 1.6 billion people [Muslims] should want to kill the rest of the world's inhabitants—that is 7 billion—so that they themselves may live? Impossible!
Now the State Department, along with Islamist leaders, wants to work against this would-be reformer's government.
Advertisement - story continues below
One member of the Islamist delegation, a Brotherhood-aligned judge, held up the group's notorious four-finger Rabia symbol while posing before a State Department seal at Foggy Bottom.
He posted it on his Facebook page:
TRENDING: MSNBC Host Demands Entire White House Staff Resign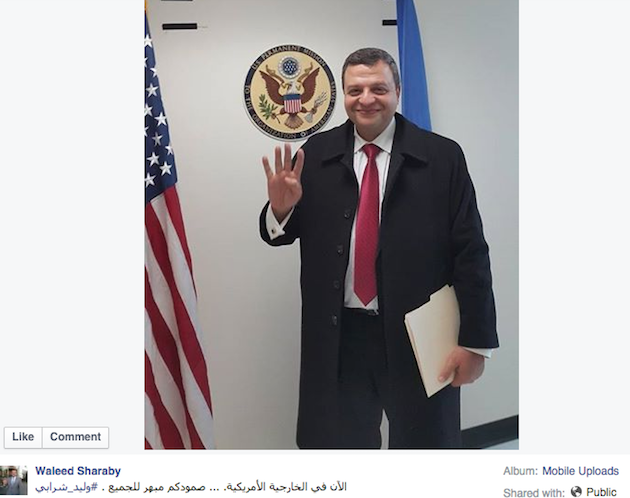 The judge, Waleed Sharaby, is secretary-general of the Egyptian Revolutionary Council.
Advertisement - story continues below
Another member of the delegation, Maha Azzam, said that the Muslim Brotherhood-aligned leaders had "fruitful" talks with the State Department.
The Muslim Brotherhood is an Islamist organization that advocates jihad. Muslim Brotherhood Supreme Guide Muhammed Badi said in a September 2010 sermon that "change that the [Muslim] nation seeks can only be attained through jihad and sacrifice and by raising a jihadi generation that pursues death just as the enemies pursue life."
Patrick Poole, a terrorism expert and national security reporter, commented on the meeting:
What this shows is that the widespread rejection of the Muslim Brotherhood across the Middle East, particularly the largest protests in recorded human history in Egypt on June 30, 2013, that led to Morsi's ouster, is not recognized by the State Department and the Obama administration.

This is a direct insult to our Egyptian allies, who are in an existential struggle against the Muslim Brotherhood, all in the pursuit of the mythical 'moderate Islamists' who the D.C. foreign policy elite still believe will bring democracy to the Middle East.
Is it appropriate for the State Department to host leaders aligned with the Muslim Brotherhood? Feel free to share your thoughts.
Advertisement - story continues below