Advertisement - story continues below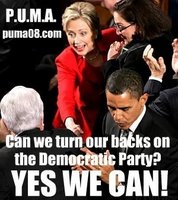 A new WND/Wenzel Poll has found more than one-third of voters on the Left would like to see someone else as their standard bearer in the 2012 presidential election. The survey of Democrats and Left-leaning independents was conducted October 22-25. It discovered 35 percent of respondents "prefer that someone else enter the race" for president besides Barack Obama, although a primary challenge has been a death sentence for sitting presidents in modern times.
Presidents Johnson, Ford, Carter, and Bush-41 all faced a contest for renomination, and all went on to lose the general election or bow out of the race altogether.
Perhaps Obama should be thankful. An Associated Press-Knowledge Networks poll conducted at the same time last year found 47 percent of Democrats believed "Obama should be challenged for the 2012 nomination." This year's results are 12 percent lower. Yet knowing the likelihood that a primary challenge would cost Barack Obama the presidency, one-in-three Democrats still prefer None of the Above.
Advertisement - story continues below
Party stalwarts have made no secret of their desire for Obama to take early retirement. Just weeks after last year's AP poll, Democratic pollsters Doug Schoen and Pat Caddell penned an op-ed in The Washington Post entitled, "One and Done: To be a Great President, Obama Should Not Seek Reelection in 2012."
Their motives are less ideological than practical. They crave power. They live to suck in campaign cash and dole out favors. As bad an electoral blowout as the 2010 elections were, The Huffington Post has noted 2012 could be worse yet for Democrats, especially if an unpopular president heads the presidential ticket. Having an unpopular president at the head of the ticket threatens their ability to keep on telling Red State Americans how to live their lives.
Although Obama enjoys several structural advantages, 2012 will not be a favorable year for a traditional re-election. The director of the Congressional Budget Office, Doug Elmendorf, testified before Congress in September that unemployment will remain mired around 8.5 percent by election day 2012. And today's unemployment is not like previous unemployment. Unemployment has reached its longest duration under President Obama. The unemployed have remained jobless so long under our present regime that less than half (48 percent) receive unemployment benefits, even after several generous extensions.
Advertisement - story continues below
That means the unemployed will be angry and they'll have election day off.
The WND/Wenzel poll reported another interesting finding. No less than 44 percent of those who wanted to see another challenger had a specific person in mind. They would like to see a rematch of the 2008 primaries, with Secretary of State Hillary Clinton challenging her boss again.
This could come about in the unlikely event Hillary opts to serve as 2012's "centrist" third party candidates. Such an effort is underway in the behind-the-scenes coalescence of RINOs and PUMAs in the No Labels/Americans Elect movement. One of the movement's fundraisers is Nancy Jacobson, the wife of former Clinton pollster Mark Penn. Another is Lynn Forester de Rothschild, a major 2008 Hillary Clinton fundraiser.
While a Clinton run in 2012 seems remote, one can never say never with the Clintons.
Advertisement - story continues below
And apparently that is what gives many Democrats hope.