It's very easy to be outraged by the way our "objective" media greeted the massive September 12 rally against Big Government in Washington and across the country. They treated it as a menacing surge of white anger, meanness, and racism. But all the media bias against this rally clearly illustrates one nagging truth for media liberals: they really don't think conservatives should be allowed to protest. It's somehow like a copyright violation.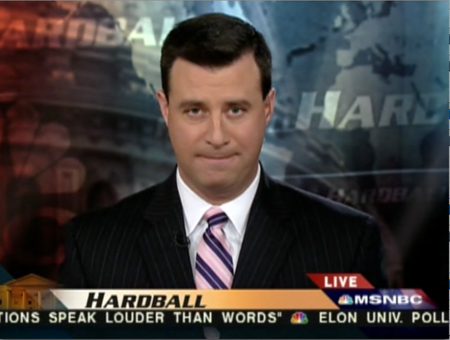 Shuster hates conservative protestors, but loved liberal anti-Bush protesters
Advertisement – story continues below
On Monday night's "Countdown," MSNBC's David Shuster found the protest united "in apparent hatred of the current president, Barack Obama." It was undemocratic, a sign of people not accepting election results, and Shuster even suggested Sen. Jim DeMint's speech at the rally signaled he favored a "military coup." The unglued anchorman also dismissed the crowd as "white, whiter, and whitest," all attending an "intolerance festival."
Now remember David Shuster in 2003, when all kinds of unsavory radical-left elements were opposing President Bush's aim to liberate Iraq. ("Bush lied, thousands died." Remember that?) The leader of the opposition was Ramsey Clark, America's nutty left-wing lawyer for a collection of disreputable dictators, and the man who would in time represent Saddam Hussein in court. But the protesters weren't nasty, even as they railed against Bush and greedy, imperialist, blood-for-oil America. They were….a superpower.
TRENDING: LiAngelo Ball Tells Truth About The Day He Said 'Thank You' To President
On "Hardball," Shuster thumped the bongos for dissent: "The size of the demonstrators, at least here, at least in Europe, seems to underscore, Chris, that there are now perhaps two world superpowers. There's the United States and then there are those millions of people who took to the streets opposing U.S. policy.
Read More: By Brent Bozell, Media Research Center