By Kevin Collins, Collins Report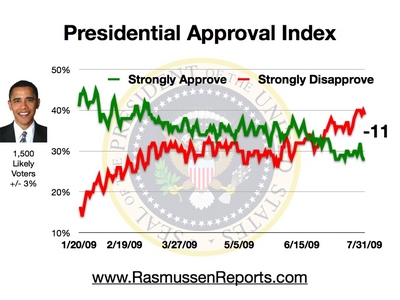 Obama's numbers are crashing especially among Reagan Democrats
Advertisement – story continues below
The media is glossing over the truth of Obama's approval freefall. His situation is serious because of which groups are turning away.
July has been a disaster for Obama's approval numbers. Gallup says Obama's numbers fell 4 points overall and 7 points among 18 to 29s. With voters over 65 only 48% approve of Obama. Young and old are realizing they were lied to.
TRENDING: LiAngelo Ball Tells Truth About The Day He Said 'Thank You' To President
Rasmussen says Obama's approval index (strongly approve versus strongly disapprove) has fallen to -12 points.
Zogby says Obama's approval is 48% the lowest he has recorded for him. Obama has lost 9 points with Latinos; 15 % unemployment is killing hopes for change. Nevertheless, he can snap his fingers and get these fools back. They're not capable of voting Republican.
Advertisement – story continues below
Obama, "It's the middle class White Reagan Democrats stupid!" Obama's real problem is his meltdown with the so called moderates and conservative White Democrats. Gallup shows Obama lost 9 points among the "some college" voters and finds him plunging among those earning between $60,000 and $90,000 by a huge 10 points!