In a tweet designed to show support for his father, Eric Trump violated New York election law by posting a picture of his marked ballot.
In the state of New York, such an act is classified as a misdemeanor and can carry with it penalties ranging from a $1,000 fine to a year and jail.
Advertisement - story continues below
According to a New York election law enacted 126 years ago, any person who "shows his ballot after it is prepared for voting, to any person so as to reveal the contents, or solicits a voter to show the same," is guilty of a misdemeanor.
Apparently Trump was soon made aware of this, as he deleted the tweet just four hours after posting it.
TRENDING: Custodian Worked Graveyard Shift for 23 Years so His 5 Kids Could go to College Tuition-Free
However he did not get the tweet down before Electionland could use Trump as an example for the rest of their voters in the state.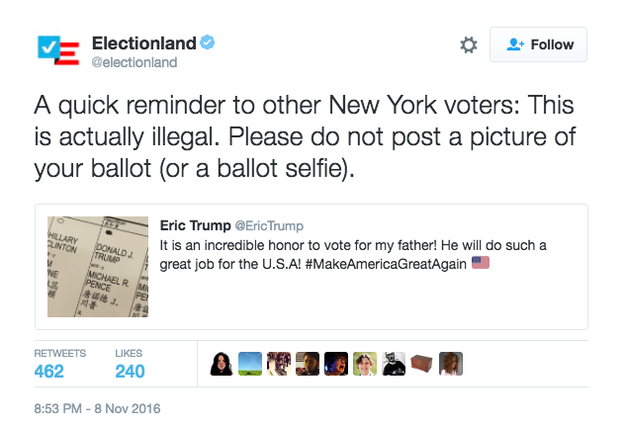 Advertisement - story continues below
Taking ballot "selfies" is legal in 19 states, but New York is one of 18 states where it is strictly prohibited. In 13 states, the issue is unclear, with no specific wording as to whether the practice is legal or not.
New York might be the strictest state when it comes to voting laws. For instance, in the Empire State, it is even illegal for a person to indicate how they voted.
Twitter users didn't hold back on criticizing Trump for the ill-advised post.
@EricTrump You broke the law and you don't know how to color inside the lines. Moron.

— Jeremy Glass (@CandyandPizza) November 8, 2016
Advertisement - story continues below
Cool, @EricTrump just broke NY law that states it is illegal to publicize your ballot. pic.twitter.com/ooO2jS4P1B

— bigly (@TrillaJoel) November 8, 2016
Recently a group of voters tried to have the law overturned, but a judge ruled against it.
He indicated that selfies weren't a valid reason to overturn the law saying, "The public's interest in orderly elections outweighs the plaintiffs' interest in taking and posting ballot selfies."
He also said that posting ballot pictures would "cause unnecessary delays in the voting process and would remove the guarantee of 'election integrity.'"
Advertisement - story continues below
Where illegal, the taking of ballot selfies is rarely prosecuted. As Western Journalism reported last month, singer Justin Timberlake violated Tennessee law when he took a photo of himself casting his ballot. Tennessee law states that cell phones may only be used at a polling site "for informational purposes" to assist voters in making their decisions. But prior to this year, there had been no incidents of anyone being charged in Tennessee for violating the law.